Commercial Spaces
One size does not fit all for integrated technology systems in a commercial space. Depending on industry and your unique business needs, we create a solution giving you simple control of one or multiple sub-systems with access from centralized, localized or a combination of locations. Smart technology will set you apart and put you a step above in efficiency and the experience of your space. You have the option to start a system in one area or a few areas and expand later whether your St. Petersburg, FL, project is new construction, remodel or retrofit. Explore the possibilities.
Boardroom / Conference Room
Don't waste time in meetings trying to get the room technology to launch a presentation. An automation system and a custom conference room design makes it possible for virtually everything in your Routt County, Colorado, office or business to work together, from lights to thermostats, TVs to projectors, audio systems to communication, and much more so your ideas of control can be as unique as your business.  A Yampa Valley or Steamboat Springs conference room design stuck in the old century surely can't meet the efficiency, productivity, and elegance of a boardroom integrated with the most up-to-date systems modern technology has to offer.  Gather around, and "Get It Done" in class with a single ease-to-use touch device to control the room for multi-media presentations, telepresence or video conferencing.
Common Solutions
Integrated Room Control

Audio / Video

Phone Systems

Video Conferencing

Networking

Lighting Control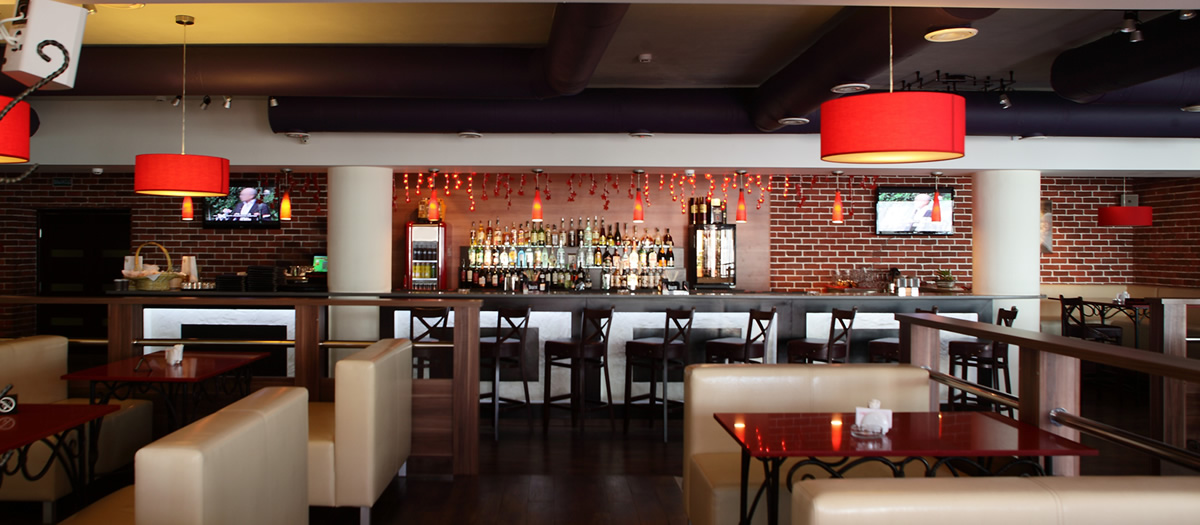 Restaurant/ Bar
Elevate the dining ambiance and create a memorable experience for your guests with smart technology for audio, video, lights, window treatments, HVAC, and surveillance. From a centralized touch screen, easily deliver entertainment on TVs on different channels and music from multiple sources. Controlling AV in a sports bar or restaurant can be simple for every member of your team. Adjust house lights effortlessly with one press of a button for lunch or dinner, or have lights automatically adjust over time without lifting a finger as your space transitions from day to night. At closing time, it takes one press on a touch screen to power everything down and lock doors.
Common Solutions
Smart Building Technology

Audio / Video

Lighting Control

Surveillance

Networking
Professional Office
Increase productivity and create a competitive advantage that clients will notice with integrated systems and centralized control. Smart technology improves business operations so owners and facility managers can focus on running a successful company efficiently. Easily set a welcoming environment with one-touch control of lights, temperature, music and video. At opening or closing time it takes just a single press to power everything on/off, lower shades and set the temperature. Reduce glare and optimize comfort for staff with motorized window treatments. Keep an eye on things when you're not at the office by receiving alerts or viewing cameras from a smart device whether you're at home or across the globe.
Common Solutions
Smart Building Technology

Audio / Video

Lighting Control

Motorized Window Treatments

Surveillance

Networking
Government Buildings
Make your facility the most high-tech and up to date with commercial automation. Install entry systems to secure high-profile areas, like courthouses or police stations. Only those with a keycard or correct passcode will be able to enter. We can also install surveillance cameras and alarm systems that you can control with a wireless device. By automating the entire building, you'll not only have access to every door and camera footage, but you'll also be able to reduce expenses with energy-saving solutions. Add motorized shades, lighting control and smart control of your thermostat to track analytics and make important changes. Need the best audio video? We can create one-of-a-kind displays and audio/video systems to meet your unique needs. A video wall will be able to showcase multiple TV stations at once to keep track of the news, and a multi-room audio system will allow you to make important announcements to the staff.
Common Solutions
Surveillance

Smart Building Technology

Networking / WiFi

Audio / Video

Lighting Control
Hotel / Hospitality
Automation and integrated technology enhances hotel guest experience and is simply smart hospitality business. Set ambiance in common areas with easy control of lights, window treatments, music, video, and HVAC. Team members can intuitively adjust conference rooms, ballrooms, and restaurants with one button press for meeting, presentation, dancing, dinner and more. Delight guests with a customized room experience of smart lighting control, automated drapes, and impressive entertainment that's easy to use. Guests can play music from their smart phone, access concierge service from the TV, and set a personalized wake up setting of drapes opening and the TV turning to their favorite channel. Hoteliers save energy with lighting and climate automatically turning off after check out or in unoccupied rooms. Monitor usage and schedule maintenance from a centralized touch screen.
Common Solutions
Smart Building Technology

Integrated Building Technology

Audio / Video

Lighting Control

Motorized Window Treatments

Energy Management
House of Worship
Create a dynamic and comfortable worship experience in a church, synagogue, cathedral or mosque with integrated control and building automation from a centralized touch screen or keypad. Optimize the atmosphere for education and communication between congregants, clergy, staff, and visitors with centralized control of lights, window treatments, climate, audio and video. Easily and efficiently make adjustments for when the space is used for other purposes with different requirements. Simple one touch control enables multi-source projection and multi-window displays. Highlight architectural features or direct attention to speakers, musicians, and clergy during a service with intelligent lighting, sound, and camera control. Secure and protect property with integrated surveillance from a smart device on and off premises. Wireless solutions available to help preserve historic structures.
Common Solutions
Smart Building Technology

Centralized Distribution

Audio / Video

Presentation Technology

Lighting Control