What Really Makes a Home Smart?
Smart Home Automation Solutions for Your Steamboat Springs Home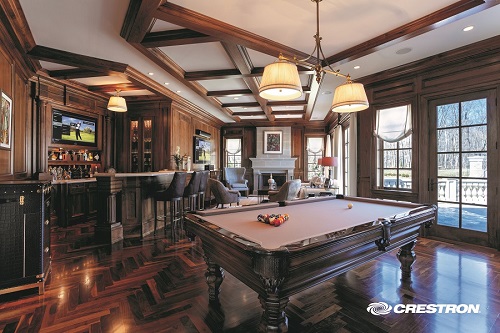 You may have heard of smart ovens, smart refrigerators, and smart washing machines, but what exactly makes an item smart? And what determines whether or not you are living in a smart home? The team at Control Designer is here to tell you that smart home automation isn't as much about connecting your coffee machine to the Internet as it is about turning all the lights on and lowering the shades at the same time with your phone. Here's the scoop on what really makes a home smart, as well as a comprehensive summary of the best solutions we offer to everyone in Steamboat Springs, Colorado and beyond.
SEE ALSO: Home Automation: Mystery, Mayhem, or Magical?
What Makes a Home Smart?
The Internet of Things is just as it sounds – it's connecting things to the Internet. So in a connected home, your fridge can give you the latest news report, keep your weekly schedule on hand, and send updates to your phone to let you know you are low on milk. While this is certainly cool, it's not exactly what we call automation or living in a smart home. Connecting all the items in your home to the Internet doesn't exactly make your home smart. Those objects need to communicate with each other, and also start and stop tasks all on their own. It takes a sophisticated system to be able to connect your lights, shades, security, audio, video, and thermostat together so that by pressing one button they all turn on or off. Uniting all of your technology under one control system eliminates the need for dozens of apps on your phone and spending extra time figuring out how each piece of technology operates. We want your smart home system to be easy to use and seamless so it works perfectly with your daily lifestyle. Here are our core services.


Our Sophisticated, Yet Simple Solutions:
Home Energy Management: The green movement is pushing many families to make an investment in energy management systems so they can help save our world's natural resources – and also save some money in their bank accounts. Having a smart home is one of the best ways to go green. Use a smart thermostat, dimmers, occupancy sensors and motorized shades to ensure you're not wasting energy and make the most of the energy you do need to use throughout the day. We can customize your program to suit your goals.
Lighting: Enjoy mobile access to every light in your home – both outside and inside. Use your smart home to make waking up and coming home easier, and add dimmers to add ambiance to your house. You'll save energy and add style and convenience to every room.
Audio: If you are a big music-lover, you'll definitely want to invest in our multi-room audio systems. They allow you to hear evenly-distributed sound throughout your home so you don't miss a beat as you move from the front door to the backyard. You can also expand your music library by using Internet streaming platforms, like Spotify and Pandora, and still keep your personal collection at your fingertips with a sleek user interface.
Home Theaters: Bring the magic of the movie theater experience home by installing professional surround sound speakers and HD or 4K picture in a dedicated theater or media room. We'll work with you to customize your private cinema according to your needs and desires, as well as incorporate the right style or theme.
Networking: To fully enjoy living in a smart home, you need a strong network. We'll make sure your Internet is strong and reliable with our professional networking solutions.

Are you interested in making your home smart? Fill out this online form and we will schedule a time to meet with you and learn your needs.



No video selected.